Certain fruits, such as apples, seem to make their way into many salad recipes—yet blueberries are an often-overlooked salad addition that can add such a delicious flavor boost. In this super-simple salad, the blueberries are the perfect partner for mild cracked wheat and summer herbs.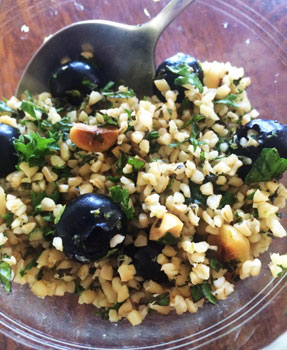 Ingredients:
1 cup cracked wheat (bulgur)
1 cup boiling water
2 tablespoons hazelnuts, coarsely chopped (or walnuts, pine nuts, or slivered almonds)
1 tablespoon olive oil
2 teaspoons zest and juice of 1 small lime or lemon
1/2 cup fresh mint, finely chopped
2 tablespoons fresh parsley, finely chopped
1 cup fresh blueberries (or dried cranberries, chopped dried apricots, or dried blueberries)
Instructions:
Pour boiling water over cracked wheat in a medium bowl. Stir well, cover, and allow the mixture to rest for an hour. If any water remains after one hour, drain it off. Meanwhile, in a small dry skillet, heat the nuts over medium heat, stirring constantly until lightly toasted. Set aside. When they're ready, toss with the soaked cracked wheat, olive oil, lime/lemon zest and juice, nuts, mint, parsley and blueberries. Serve at room temperature.
Recipe credit: From the American Institute on Cancer Research