Have you ever had fresh-from-the-pod shell peas? If you haven't, you're in for one of life's finest culinary treats! They're the sweetest, most delicious peas you'll ever try. You can cook the shelled peas lightly and serve them simply with a bit of butter, salt and pepper, or use them to take other dishes to the next level, such as in this cheesy pasta. I used Canadian bacon from Wood Family Farm in this recipe (our neighbors at the Corvallis Farmers Market), but you can swap in ham, grilled chicken, or skip the meat for a yummy veggie pasta.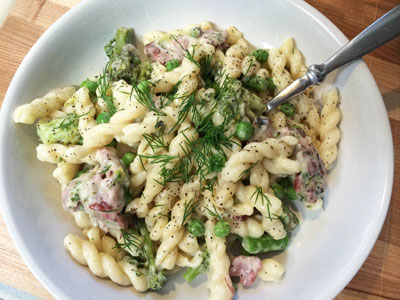 Ingredients:
About 16 ounces dry pasta, such as penne or what I call "twisty" pasta (as seen in photo)
Large pinch of salt (for boiling pasta)
2 tablespoons butter
1 small onion, finely diced
1 to 2 cups fresh peas, shelled
About 2 cups of other tender spring vegetables, such as a mix of broccoli (cut into small florets) and asparagus (cut into 1-inch pieces)
1/2 to 1 cup Canadian bacon, cut into chunks
3 tablespoons fresh dill, finely chopped
Salt and pepper to taste
For the cheese sauce:
1-1/2 cups whole milk
2 tablespoons all-purpose flour
2 cups shredded cheese, like cheddar, Monterey Jack or Havarti
1/4 teaspoon paprika
1/4 teaspoon garlic powder
Instructions:
Boil pasta in salted water until it reaches your desired tenderness. Rinse pasta with a bit of cool water through a colander to stop it from cooking further, drain well, and set aside in a large pot.
While the pasta is boiling, grate the cheese for your sauce and set aside.
Melt butter in a large skillet or Dutch oven over medium-low heat. Add onion and saute, stirring occasionally, for about 5 minutes. Stir in broccoli, asparagus and/or other vegetables, as well as the Canadian bacon, and saute for about 5 minutes more, or until the veggies are just tender-crisp and brightly colored. Add everything in the skillet to your big pot with the pasta.
Next up, make your cheese sauce. Add 1 cup of the milk to a saucepan over medium heat. In a separate bowl, whisk together the remaining 1/2 cup of milk and the flour until smooth. As the milk in your saucepan is getting quite hot, whisk in the milk-and-flour mixture. Continue whisking gently until the milk thickens to the consistency of heavy cream, about 4 minutes. Turn the heat to low and begin mixing handfuls of cheese into the milk. Whisk in the paprika and garlic powder. Stir until everything is melted and creamy.
Add the sauce to your pot with the pasta and other ingredients, and add the dill (setting a little aside for garnish), and salt and pepper to taste. Stir well. Spoon pasta into bowls and sprinkle with a bit of fresh dill. Serve warm.