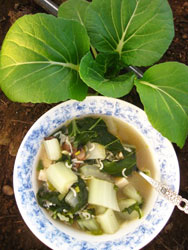 This delicious soup is super simple and makes great use of any variety of greens you have on hand.
Ingredients:
2 tablespoons olive oil

4 cloves garlic or more, minced

1 tablespoon fresh, grated ginger

10 cups hot chicken or vegetable stock

1-1/2 to 2 cups uncooked rice

2 small Napa cabbage heads or large bunches of Asian greens of any type, such as bok choy (about 2 to 3 pounds of cabbage and/or greens total), thinly sliced

12 scallions (with the whites diced and the greens cut in 1-inch lengths)

2 tablespoons dry sherry or white wine

2 teaspoons sesame oil

Salt and pepper to taste
Instructions:
Heat olive oil in a soup pot over medium heat. Saute ginger and garlic until fragrant for about 1 minute. 
Pour in the stock and add rice. Simmer for 15 minutes or until the rice is just tender. 
Add the cabbage and/or greens, scallions, and simmer for another 5 minutes. Stir in the sherry and sesame oil. Serve hot.
Makes 8 to 12 servings.