Hello to our super CSA members! We're hoppin' between all kinds of projects on the farm today, so this newsletter will be pretty short and sweet. Here's the scoop for this week: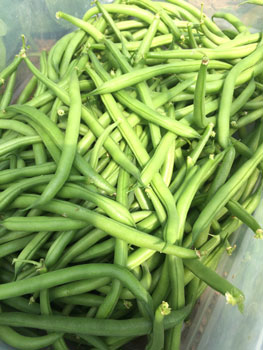 Green beans: Woo hoo! It's green bean time. These are Jade green beans, a beautiful, bright-green variety with lots of flavor.
Carrots
Tomatoes
Zucchini: One recipe we really like are these Quinoa-Zucchini Cakes with Savory Herbs.
Salad mix: These week's mix includes three varieties of lettuce, arugula, spinach, baby kale, and baby mustard greens.
Garden cucumber
Garlic: This is our Lorz Italian variety of garlic. You can read about it and all our other varieties on the Matt-Cyn Farms Garlic List.
Kale: Everyone gets a new variety of kale to try!
Bulk beets: A few "topless" beets. Don't these Beet Steaks with Lime look amazing?
Have fun cooking this week!