Hi, everyone! We hope you had a great weekend. Over the past week, we've been digging some of our later-maturing varieties of garlic, working on some weeding projects, and harvesting like crazy. Our tomato plants are really starting to produce in abundance and some of our berries are also beginning to put on some lovely fruit. Here's what you'll discover in your CSA boxes for the week: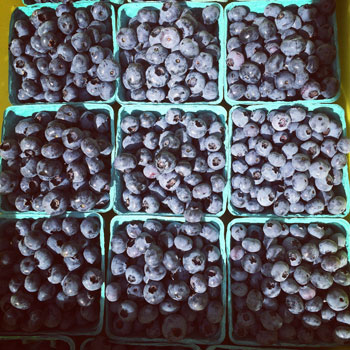 Blueberries: While we mostly grow vegetables, we do have some fruits, too! These are the tastiest, sweetest little blueberries. Five ideas for using them (if you can save them past 10 minutes): blueberry pancakes, fresh blueberry sauce on French toast or ice cream, blueberry scones, blueberry muffins, or a blueberry kale salad with carrots.
Lettuce: Are any of you really into homemade vinaigrette salad dressings? They're so easy and tasty, and you can try infinite combinations of ingredients. If you whisk together an oil (like olive oil or sesame oil), an acid (such as vinegar or lemon juice), and something sweet (my favorite is a bit of honey), you have a good base to add more ingredients to. I love a good herb-garlic balsamic vinaigrette, or a lemon poppy seed vinaigrette. Ginger and dijon mustard are some other favorite ingredients to add. Simple homemade dressings have a way of making salads taste so light and fresh. Experiment with a new one this week!
Basil: Use this fresh herb to try a Classic Caprese Salad. Or, toss it in pastas or tomato sauce. Storage tip: You never want to put your fresh basil in the fridge, because it will get chill damaged quickly and dark splotches will appear on the leaves. Instead, always store it in a jar of water on the countertop, with the stems down in the water. It will keep wonderfully that way!
Snow peas: The spring pea plants are really slowing down, so this might be the last CSA appearance of peas for the year. Savor them!
Tomatoes: More big, fresh heirloom tomatoes to enjoy.
Baby kale and baby spigarello: These small, tender kale and spigarello leaves are my favorite for cutting into thin ribbons and making a fresh, robust salad. If you don't try the blueberry kale salad we linked to above, how about this Kale and Apple Salad recipe.
Bulk carrots: Some "topless" carrots. We just found this recipe for Gingered Carrots with Cumin and Basil, which could be a great way to use these plus that fresh basil.
Soap: It's soap week! This is our Bee My Honey soap, which is a very mild unscented soap bar with honey, beeswax and oatmeal.
Bonus item! Garden cucumber: In case you need one for your salads this week.
Bonus item! Poppy seed pod: Yes, this is full of culinary poppy seeds! This is one of the more unusual things we grow, and customers just love them. You can use them in breads, pastas, muffins, the salad dressing we mentioned above, and so much more. Just pop off a little section of the top "star" to get the poppy seeds out.