Hi everyone,
It's CSA time once again. We think you'll especially like one new item in your boxes this week: just-dug Yukon Gold potatoes! This is such an awesome potato variety. It's going to be a HOT week, so we'll do our best to pass along some cool summer recipes. Let's dig in.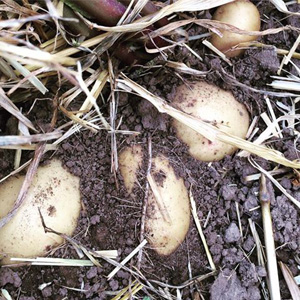 Yukon Gold new potatoes: This variety is classic for baked potatoes and mashed potatoes. If we mash them, we like adding garlic, caramelized onion or green onion to the mix. If you're looking for something cool, try a variation on this Yukon Gold Potato Salad Recipe.
Swiss chard: We wanted to pass along a new chard recipe, and we just found this one for Wilted Chard Salad with Walnuts that looks pretty darn good! If you want to cook up the chard and potatoes together, check out this Potato and Swiss Chard Gratin recipe.
Lemon cucumbers: This heirloom variety of cucumber doesn't actually taste lemony, but they get their name from their cute, little lemon-like shape. These are mild, sweet cucumbers you can enjoy just like regular slicing cucumbers. Some kids like to eat them right out-of-hand like apples!
Eggplant: Cooking out this week? Try some Grilled Eggplant. If you want to save this for later, one thing I like to do is roast eggplant in the oven, then freeze it in a small zip-top freezer bag. Later in the year, I'll use it make roasted eggplant hummus.
Heirloom tomatoes: We're loading you up with more tomatoes this week. You might create an Heirloom Tomato Platter to serve with dinner, or make a simple Marinated Cucumber, Tomato and Onion Salad.
Blueberries: Yum! More blueberries to enjoy.
Walla Walla sweet onion: This is the first of the Walla Wallas for this year! They'll get bigger as the year goes on.
Carrots: If you want to enjoy these cool, make a dip or some hummus to accompany some sliced carrot sticks. A carrot salad also sounds nice! Here's one for French Grated Carrot Salad with Lemon Dijon Vinaigrette.
Green onions: The little bulblets on these are perfectly delicious, too!
Zucchini: Check out these Zucchini Fritters. Could be a fun dish to try this week.
Bonus item! Garden cucumber: If you're looking to try something new, here's a recipe for making quick refrigerator pickles out of cucumbers, carrots, and other veggies.
Bonus item! Green beans
Happy cooking, everyone!