Greetings, friends! Halloween is just 'round the corner, so it seemed a great time to include a pumpkin in your box. Here's your full list of farm-fresh fall goodies: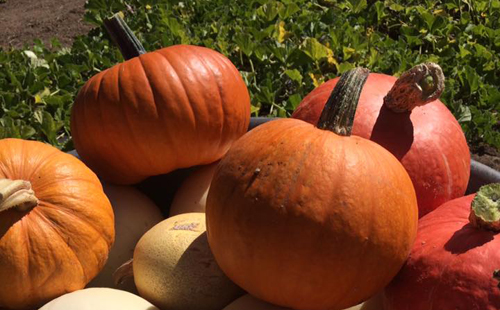 Pumpkin: This is a classic New England Pie pumpkin. Feel free to set it out on your porch for decoration, and then eat it! (You won't want to carve it, of course, as this isn't a typical carving pumpkin.) When you are ready to eat it, you can't go wrong with delicious from-scratch pumpkin pies, such as this simple pie recipe. But there are so many other things to do with pumpkin: pumpkin bread, pumpkin curry, stuffed savory pumpkin and so much more.
Apples: This is a later-maturing variety of apple called Jonathan. Great for fresh eating or for baking.
Beets
Potatoes: These are a new-to-the-CSA kind of specialty fingerling potato called Ozette. It has an earthy, nutty flavor and a creamy texture. It's often served steamed, fried or roasted. Here's a rich, tasty-looking recipe for Ozette Potatoes with Bacon Cream.
Thai chiles: This is a mix of our Thai chilies that would work wonderfully in a Thai curry or saute. These will add a nice amount of heat to any dish.
Poblano peppers: A couple of gourmet cooks from Eugene drive all the way to the Corvallis Farmers Market each year during pepper season just to purchase our poblanos, because we let them ripen to red (whereas most farmers pick them green). They say the red, fully ripe peppers have more flavor. Poblanos have a mild taste and are called "Ancho" peppers when dried. These are often used as a stuffing pepper, such as in Chiles Rellenos.
Baby onions: Sometimes you just need a bit of chopped onion in a dish, and these are perfect for that. This is a variety that stores well, so no need to use them all up quickly.
Tomatoes: A couple of little tomatoes for everyone. These will likely be the very last tomatoes of the year.
Dried beans: This week's bean variety is called Blue Jay. It's a rare heirloom bean that some say has a very slight flavor of citrus along with its classic bean flavor.
Happy cooking!