Hello, and happy Labor Day, to our sensation CSA crew! It's hard to believe it's September already. Some days have been feeling so autumn-like lately, but it looks like we have some sun and warmth to enjoy this week. We've been harvesting an especially awesome amount of sweet and hot peppers in the past couple of weeks, so we're going to be sharing a pretty pepper medley in the CSA box. Check out this hot pepper harvest!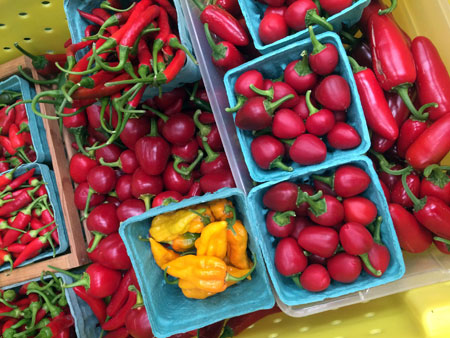 Here's what's making its way to your kitchen this week:
Ground cherries: We just love this crop, and it's fun to introduce it to more people, since a lot of folks have never eaten them. They're in the tomatillo family, so they grow in little husks. The edible fruit is exposed when you peel back the papery husks. Just eat the little orange fruits raw, the way you would pop cherry tomatoes in your mouth. They taste quite sweet. The flavor is unique, and it seems everyone compares it to something different. We like them as snacks, because they naturally come in their own wrappers!
Sweet onion
Broccoli
Hot pepper medley: We're throwing together a spicy combo of little hot peppers. There are so many things you can do with a mix like this. Try drying them all and grinding them into a hot pepper powder you keep in a spice shaker. You could even add garlic powder and dried, ground herbs to the blend. Or, try roasting them all in your oven with some onions, blending them in a food processor, and then freezing the pepper sauce in ice cube trays or small containers. Then, you can pull out a pepper cube every time you need to spice something up this winter!
Sweet pepper medley: This is a mix of colorful sweet bell peppers and roasting peppers. Last night, we put flat strips of these peppers on the grill alongside some burgers, and then layered the sweet grilled pepper on the burgers with other toppings. Really yummy. If you try the idea above with the dried peppers or frozen pepper cubes, you can include some sweet peppers, too, for a more mild blend.
Cherry tomatoes
Slicing tomatoes
Mixed green beans and yellow wax beans: Try them in this Green Bean, Yellow Bean and Cherry Tomato Salad.
Kale
Cantaloupe: More personal-sized French Orange sweet little melons for ya.
Bonus item! Kohlrabi
Bonus item! Sweet slicing cucumbers
Bonus item! Fresh basil
Bonus item! Bulk carrots
Have a great week, everyone. We hope you whip up some lovely meals with this produce.