If you're looking for a unique springtime breakfast dish with out-of-this-world flavor, look no more. This is bacony, garlicky fresh spring goodness at its finest, and this recipe even allows you to work some healthy greens into a complete breakfast dish. The below recipe is for two servings, but it's simple to double or triple if you're serving more.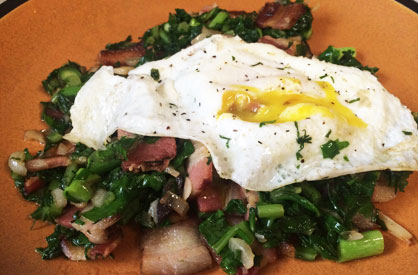 Ingredients:
6 strips good-quality, thick-cut bacon
2 cloves garlic (or about a quarter of a head of fresh spring garlic), minced
2 bunches Sai Sai radish leaf, chopped
Small handful of chopped fresh herbs, such as dill leaf, cilantro or parsley (or a combo of these)
6 to 8 fresh asparagus spears, cut into 1-inch pieces
2 eggs
Salt and pepper to taste
Instructions:
Cut bacon strips into half-inch chunks and cook in a large skillet on medium to medium-high until browned to your liking. Add garlic and cook, stirring gently, for 1 minute more. Add the chopped radish leaf, herbs and asparagus. Saute for just a couple of minutes, until the radish leaf is nicely cooked and the asparagus is bright green. Divide the mixture onto two plates, creating a bed for the eggs.
Using the same pan (which should have just a bit of bacon grease left in it), cook the eggs to over-easy. Lay one egg each on the beds of greens and sprinkle with salt and pepper. This dish works wonderfully served alongside toast or cornbread muffins. If you prefer, swap in some mustard greens, spinach or other tender greens for the radish leaf, or use a combo of your favorite greens.