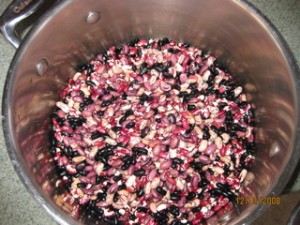 Any variety of Matt-Cyn Farms dried beans works wonderfully in this hearty dish. Spice it up by drying and grinding some of our hot peppers.
Ingredients:
3 tablespoons olive oil

2 cups diced onion

1 tablespoons minced garlic

1 pound mixed dry beans

10 cups veggie or chicken broth

2 tablespoons chili powder**

1 teaspoon cumin

1 pint diced tomatoes

1 4.5-ounce can diced chilies

2 to 3 finely diced jalapenos (to taste)

2 cups cooked chicken, beef or pork (optional)

1 to 2 handfuls barley (optional)

1 teaspoon each salt and ground pepper

Grated cheddar cheese
Instructions:
Heat oil in a large soup pot over medium heat. Add onions and sauté for 10 minutes, stirring occasionally. Add garlic and sauté for 2 more minutes, stirring constantly. Add beans, barley, stock, chili powder, and cumin. Lower heat and simmer for 1.5 hours until beans and barley are tender. Add tomatoes, chilies, meat, salt, and pepper. Simmer for 15 minutes. Garnish with cheddar cheese.
**Try using different homemade dried pepper combinations, such as Pasilla, Ancho, Anaheim, Krimson Spice and/or Paprika.