This summer pasta salad hits the spot on hot days, and you can mix-and-match whatever fresh veggies you have on hand.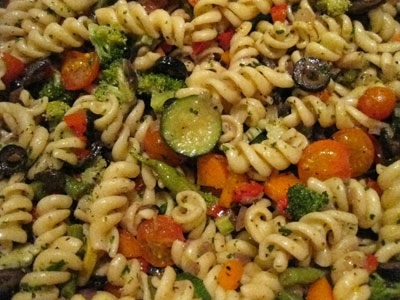 Ingredients:
1 17-ounce package of your favorite pasta noodles
1 can whole black olives, sliced
1 pint of cherry tomatoes, cut in half
1 small onion, shallot or a small bunch of scallions, chopped
6 to 8 cup mixture of your favorite veggies, such as broccoli florets, green beans, snow peas, sweet bell pepper, carrot, zucchini, wax beans, and so on
1 to 2 tablespoons olive oil
1 bottle of your favorite salad dressing
3 tablespoons chopped parsley
Salt and freshly ground black pepper to taste
Grated Parmesan or Pecorino cheese
Instructions:
Boil pasta according to instructions on package. Drain and rinse in cool water and put in a large bowl. While pasta is cooking, chop the olives and tomatoes; set aside. Chop the mixed veggies/onion into bite-sized pieces; put in a pan with the olive oil to sauté until crisp-tender. Add veggies to pasta bowl along with the olives and tomatoes. Add the parsley, salt and pepper. Toss with enough salad dressing to coat all the pasta salad. Chill well and garnish with the grated cheese when served. YUM!