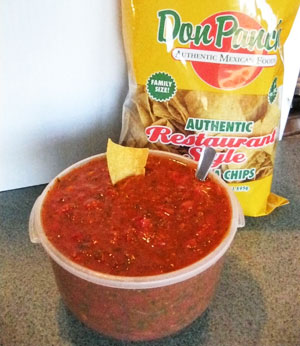 We're positively addicted to summer salsa on the farm. We like a nice head sweat when we chow down on it with chips, so we add loads of roasted peppers. This recipes makes almost one full gallon of addictive salsa. Just half it if you want only a half-gallon. It's the best!
Ingredients for roasting:
Olive oil
10 to 15 hot peppers, cut in half
3 to 4 sweet peppers, cut in half
1 white onion, sliced
1 full head of garlic, with peeled cloves
Black pepper and salt to taste
Water
Remaining ingredients:
Around 5 to 8 pounds heirloom tomatoes
Juice and zest of one lime
Large handful of fresh cilantro, chopped
Instructions: 
Coat a large, lipped pan with olive oil.  Place cut peppers and the onions and garlic cloves in the pan.  Coat veggies with more olive oil, and then sprinkle with salt and pepper.  Pour in about 1 cup of water.  Place in oven at 350 degrees.  Pull out when veggies are soft and lightly browned, around 45 minutes to an hour.  Then buzz in a food processor or Vitamix until smooth.  Pour into a large 1-gallon bowl.  (You can make batches of roasted pepper sauce ahead of time to freeze, and then make salsa anytime you can get your hands on fresh tomatoes!)
While the peppers are roasting, cut fresh tomatoes into bite-sized pieces. When the peppers are done, let them cool until they come to about room temperature. Next, mix the tomatoes and pepper sauce.  Add cilantro and lime juice and zest.