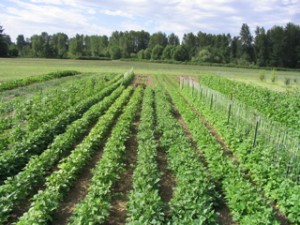 Matt-Cyn Farms is a small farm by acres in production, but a big farm in heart, passion, and creativity. Our 33 acres is divided into 22 acres of cropland and 11 acres of riparian forest. Currently, we intensively grow all of our market crops on approximately 3 acres, expanding a little each year as we can manage. The remainder of the cropland is leased to another grower who produces a variety of food and seed crops. The riparian forest with a quarter-mile of South Santiam River frontage is our play land for riparian stewardship activities during the winter months.
Our farm property is flat but loaded with lots of character, creative opportunity, and diversity. We have irrigated, Class I soils that will grow almost anything our climate will permit. We enjoy lots of sun and verdant vistas in all directions.
Farming Practices
We practice organic methods, but we are not organically certified. Our operation is small; the three of us carry out every activity from inception to the final customer interaction. At our scale, we see little value in paying for a label when we personally interact with almost all our customers and hand our produce to the people who will prepare and eat it. We encourage farm visits and questions about our farming practices.
We do not use chemical herbicides, fungicides, pesticides, or fertilizers. We only employ pesticide remedies allowed by the National Organic Standards, and we only do so when more benign approaches are insufficient.
We focus on heirloom varieties with fantastic flavor that grow well on our farm.
We avoid GMOs and artificially treated seeds.
We build soil fertility and health with cover crops, crop rotation, compost, composted manures, and other organic mineral amendments.
Weed control, which is one of the most labor-intensive aspects of non-conventional systems, is accomplished through cultivation, hoeing, hand pulling, and seed load management.
We use minimal plastic when growing crops, preferring to grow as much as possible "outdoors," and we re-use and recycle whenever possible.
We use drip irrigation to water our crops to conserve water and minimize weed pressure.
Our chickens are run on open pasture, eating greens and bugs while giving us great fertilizer and rich, colorful eggs. Each girl is named, hugged and petted every day and can count on full retirement benefits at Matt-Cyn Farms for her lifetime! We respect and appreciate their selfless contribution to our nourishment. Thank you, girls!
Our Farming Journey
It all started with an Italian prune tree in our backyard that produced several hundred pounds of prunes each year. Because that was more than we could process, we needed to find a place where they wouldn't go to waste. Matt-Cyn Farms was born of this tree. Matt Borg grew up on a small farm and chose a career in engineering and Cynthia Ross grew up as a city kid and pursued a career in business planning. Along the way to buying the farm, Cyndee got a Horticulture degree and Master Food Preserver certificate, and together Matt and Cyndee earned their Master Gardener and Master Watershed certificates through the Oregon State University Extension.
In 1996 we realized that we needed a bigger yard to accommodate our passion for produce. At that time, at our former home in Corvallis, we had been slowly taking out lawn and bogus inedible bushes and replacing them with garden space and edible perennials. At that point, in addition to the prunes, we were growing far more produce than the two of us could possibly eat and preserve. This is when we started participating in the Corvallis-Albany Farmers Market, where we sold our extra fruits and vegetables at the consignment booth. At the same time, we were also looking to escape corporate America, simplify our lives, and start our own business that would ground us with challenging and more meaningful work. It took us four, very educational years searching, but in 2001 we found the ideal location for Matt-Cyn Farms to send down its perennial roots. Cyndee immediately went to work full-time on the farm while Matt worked four days a week as an engineer and three days a week plus evenings as a farmer. In early 2008, Matt quit his job as an engineer to work full-time on the farm.
Farming Philosophy
If we've noticed anything about food in our farming careers, it's that we can't really live well without REAL food, and that food can REALLY grow a community! Living well means that the food is REAL; meat and produce that has been grown for untold generations by natural breeding processes in and on soil that is free of artificial chemicals, nurtured by resident soil biota, composted manures, and vegetation.
REAL food is an adventure in flavor, seasonality, good health and shared experience with others. FAKE food is food that has been modified by pre-processing, chemical additions, preservatives, artificial colors, financial subsidies, and sometimes genetic modification. When compared to REAL food, how can FAKE food be considered good for us to eat? We have seen that REAL food has the power to grow a community, and this is evident every time we hand over a bag of produce from our little farm to a member of our local community. In that bag is REAL food we grew with passion, awe, appreciation, and the commitment to sharing the very best food we can with our surrounding community.
Our desire is to be surrounded by a community of folks who are vibrant with health and have a zeal for adventurous eating. For centuries, food and feasting had been the center of communal and familial activities, but as food became more and more FAKE, we started to lose the communal connection that REAL food fosters. We don't have any illusions about creating a new food system; we are simply hoping that we can resurrect the traditional food celebrations of our ancestors, one kitchen at a time. For those who truly see the REAL food connection enhancing their lives, the contagion will spread organically by taste and experience to others they know in their circle of friends and family.
Over the years, we've seen that more folks are interested in where their food comes from, how it's grown, and who is growing it for them. We believe that seeing an abundance of food triggers an instinctive survival reaction in most folks. For us, food is common ground; it is the starting point. Everyone must eat to live and survive. Everyone has a vested interest in food, even if they don't know it. As was common, not so many generations ago, we spent the vast majority of our time planting, caring for, preparing for, cooking, preserving, storing, and, of course, eating food to guarantee our survival day to day, year to year. This is not menial labor to be avoided, but a lifestyle choice of health, gratitude, abundance, acceptance, and connection. This is one of the reasons we grow such variety of REAL food, because we actively practice food preservation, and take the time to prepare adventurous meals with all the seasonal produce options. We especially love to share these bountiful meals with friends and family.
Finally, we recognize that a highly diversified produce farm takes an incredible amount of hand labor and isn't necessarily the most "efficient" means of production. We cannot grow food as inexpensively as a mono-crop producer. What we can do is produce a wide range of incredibly high-quality fruits and vegetables and deliver them at peak ripeness, freshness, and healthfulness, which cannot be obtained through the current conventional food system.