To be 100 percent honest, I'm not the most fervent eggplant fan in the world. But this recipe is incredibly delicious. The caramelized onion creates a sweet, balanced flavor. Works well as a dip with warm pita, vegetables and corn chips, or as a spread on bagels, sandwiches and more!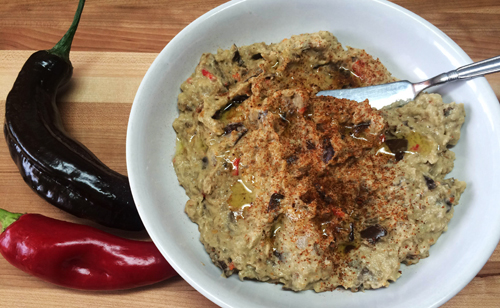 Ingredients:
2 medium-sized eggplant
1 Anaheim pepper
1 Pasilla pepper
7 tablespoons olive oil, divided
1 large sweet onion, diced
4 cloves garlic, finely sliced
1 tablespoon tahini
1 teaspoon lemon juice
1/2 teaspoon salt
Freshly ground pepper
Paprika
Instructions:
Preheat oven to 350 degrees. Cut eggplant into half-inch rounds, and then cut the rounds into half-inch strips. Remove seeds and veins from peppers, and cut into thick strips. Thoroughly coat eggplant and pepper pieces with 3 tablespoons of the olive oil. Add to a roasting pan and bake for about 20 minutes, and then check progress. If peppers are quite soft or starting to char, remove them with tongs and set aside. You may need to roast the eggplant for 10 to 15 minutes more, until soft and well-browned. (Many recipes call for removing the skins from eggplant in dishes such as this, but it's not necessary, and the skins of dark purple eggplant actually contain a lot of nutrients.)
While veggies are roasting, add 2 tablespoons of the olive oil to a large skillet set to medium-high. Add onion, and stir occasionally, until soft and caramelized. About halfway through cooking the onion, toss in the garlic slices.
Add roasted eggplant and peppers, along with the garlic and caramelized onion, to a food processor. Add the tahini, lemon juice, salt, pepper, and 1 tablespoon of olive oil. Blend well, stopping every now and then to scrape the sides of the processor with a spatula.
When well-blended, add to a serving dish. Drizzle with the final tablespoon of olive oil and add a sprinkle of paprika. Best served warm, but can be stored in the fridge for a few days, too.