A dip recipe may seem like an odd place to toe the line of food snobbery, but food-snob mode I must enter briefly. Most dill dip recipes out there online are, as Matt would say, total bush league. Many of them are too mayonnaise-y, and, worse yet, some of them only call for about a teaspoon of dried dill. I say embrace the lovely flavor of truly fresh dill, and use a healthy serving in a good dill dip! When done up right, this dip is downright addictive. Serve with sliced cucumbers, carrots, broccoli florets, radishes, salad turnips, snap peas, or other fresh vegetables.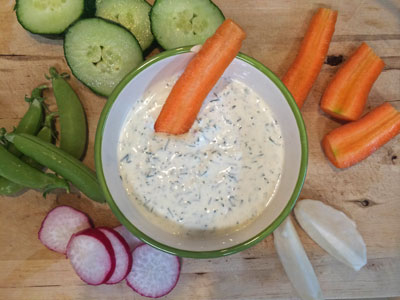 Ingredients:
1 cup sour cream
1/2 cup honey whole-milk yogurt
1 tablespoon mayonnaise
1/4 cup fresh dill, very finely chopped
2 tablespoons red onion or shallot, very finely chopped
1 clove garlic, finely minced
1 tablespoon milk
1/2 teaspoon lemon juice
1/2 teaspoon salt
1/4 teaspoon paprika
1/4 teaspoon onion powder
Instructions:
Whisk all ingredients in a medium-sized bowl (skip the garlic if you don't prefer the sharpness of fresh garlic in a dip). Refrigerate and serve later, or serve right away. Attempt not to eat the whole thing in one sitting.