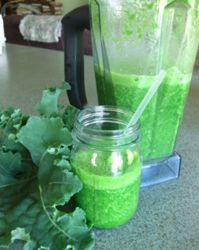 This is a favorite recipe at the farm. It's very tasty, super simple, and when you drink it you feel like you're adding days to your life!
Ingredients:
Half a frozen or chilled pineapple (we cut into chunks and freeze in small containers beforehand)
1 big bunch of kale
2 cups water
1/4 cup honey
Juice and zest of one lime
Instructions:
Put all ingredients in a Vitamix (or another high-powered blender) and buzz until the smoothie is an electric green color. It's that simple!